The workplace is constantly evolving; and the last year and a half have kickstarted a new era in the way business operate and how employees work. As a result, the way digital talent is hired, will also see some change. Automation is playing it's part in making HR tasks easier and time efficient, whilst mangers are tasked with the challenge of sourcing and recruiting the best digital talent. 
That's why at Blu Digital, we are here to assist our clients, because as recruiters, we take the burden away from our clients and make it easier to stay on top of the most relevant industry trends. The new and emerging trends help recruiters find the best talent for clients; and we'll take a look at the changes and trends set to reshape recruitment in 2022. 

What are the current recruitment challenges? 

Whilst it's necessary to know the trends that are innovating the recruitment sector, it's also just as important to be aware of the existing challenges within the sector. 
According to research conducted by Deloitte, 61% of industry professionals say the biggest challenge is finding qualified experienced hires. In the same study, 37% of respondents say finding full-time talent with the right digital skills is a challenge; whilst onboarding new talents in timely fashion is challenging (27%). 
With the onboarding process and finding talent with the necessary skills is a challenge, the use of AI and automation could be a timely solution for clients. Industry research suggests that the use of AI in recruitment will reduce turnover by 35%. Using AI-powered recruiting software has also seen organisations' cost per screen reduced by 75%. 
As well as time efficiency and attracting digital talent that fits the spec, it's important to find out what motivates digital talent – find what they're looking for.  
A survey from Glassdoor suggested that prior to the pandemic, salary (67%) and benefits packages (63%) are the biggest motivator. With hybrid working not yet a major factor in job satisfaction, 59% of respondents cited location as a factor. 
The pandemic has shed new light on recruitment processes. Recruiters are increasingly using social media posts, web-based job boards, and online job portals, but traditional methods still have a part to play. The aim going forward for many recruiters will be finding the balance between digital and traditional channels is key to accomplishing recruitment priorities. 

Employer branding is important 

Refining brand identity may be the key for employers when it comes to boosting talent acquisition and retention. Businesses with excellent employer brands receive 50% more qualified applicants. In order to provide a more 'personal' and 'engaging' experience for potential employees, brands may have to refine their brand identity, as well as the brand experience. 
Whilst recruiters are likely not to have much influence in how their client brands themselves, advice on strategy can be useful, when helping them portray themselves in the best possible way. Recruiters can play a key role by creating a welcoming image for potential employees. By gaining an insight into brands' vision and values, this will help provide an attractive outlet into what the brand is and who they're looking for. 
Employer branding strategies are becoming crucial for creating a robust employer brand. As employers will want to be part of an organisation they're proud of, effective branding helps determine whether strong candidates will join a company of their choice, or a competitor.  

The remote recruitment experiences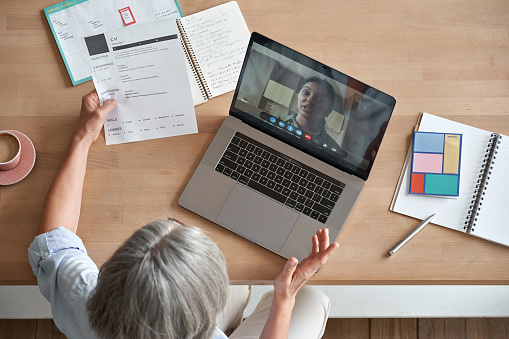 Although remote jobs are nothing new, there is no doubt that the COVID-19 pandemic has sped up the transition into remote work, and the hybrid model of work looks set to remain. Recruiters will need to align their processes with the needs of their remote team to improve the hiring process. The demand for remote workers is growing, and as a result, there will be a demand for recruiters to facilitate remote talent acquisition and retention not only in 2022, but beyond. 

Recruiters to become niche experts 

The extensive knowledge which our consultants possess, allows us to attract outstanding candidates and the best clientele within the digital market. Recruiters will need to become niche experts heading into 2022; it will be an important element when it comes to the long term success of talent retention. 
As industry roles evolve and become more complex and new jobs arise, recruiters will need to know the ins and outs of the niche to recruit effectively for those positions. If an app development specialist company works on marketing, branding, web development amongst others, they'll be looking for talent which can fit specific positions. Understanding the skills and jobs in demand is key. 
Understanding the niche helps recruiters gain the knowledge they need to become the best consultants in the industry. 

Reliance on HR automation 

According to CareerBuilder, 72% of employers predict that elements of their talent acquisition will be automated within the next decade. Automation, as well as other digital recruitment trends, have been around for a while. However, the emerging HR automation tools looks set to outdo tools of previous generations. 
Benefits that come with integrating HR automation for businesses include cutting hiring costs and HR staff hours. 

How else does automation help in recruitment? 

Task completion is a major benefit when it comes to integrating automation within the recruitment process. Integrated technology solutions help recruiters to find, attract and convert potential candidates into applicants. These tools will help make the hiring process faster and more efficient. Such tools are becoming used more regularly with recruitment firms. A survey by Modern Hire, revealed that 50% of firms use AI to source and screen candidates, as well as to schedule interview – we could well see growth in the method during 2022. 

Candidate experience a key recruitment factor 

As well as the job itself, a company can sell themselves via the recruitment process. As the traditional hiring process has now seen changes, it is key that business continue to provide the best candidate experience possible. Recruiters are now taking into account candidate's perception on the recruitment process, so this feedback can be used in improving the service. 
According to TalentLyft, 97% of candidates with a positive experience refer other candidates and; 55% of candidates would tell their social media networks about their positive experience.  As we head into 2022, in a bid to build a great candidate experience,  it is likely we'll see recruiters: 
Segmenting candidates types and selecting which hiring journey addresses specific expectations
Build a consumer-centric candidate experience, whilst assessing the efficiency of their methods

Social recruiting likely to grow 

Social media recruiting is certainly not a new term. We've seen the steady growth of recruiters who have scouted social media networks in order to find, attract and hire talent. Social media at the beginning was not considered a typical channel to scout potential new hires; however, with it's easy access, social-based recruiting opens the opportunity for one-on-one engagement. 
As more people head to various social networks to stay informed about the latest news and developments, channels such as Twitter and LinkedIn have become a key go-to platforms to find candidates. 94% of professional recruiters are on social media to post jobs and network with their extensive community (Betterteam). 
Besides posting job vacancies on social media, there are other ways we'll begin to see recruiters advertise themselves on social media. Whether it's individual or as s business, the art of storytelling has become a go-to for many businesses. This gives followers a unique experience. 
59% of employees said that their company's social media presence was one of the reasons why they chose to join their organisation. (Betterteam). 
According to Infinity Social Media and Jobcast, in 2022, we're likely to see:
 
94% of recruiters use or plan to use social media for recruiting 
70% of recruiters plan to increase their investment in social recruiting 
49% of employers who use social media found improvement in candidate quality 

No matter what hiring strategy or technology is trending, the ultimate objective always remains the same. The top priority for businesses is to attract the right talent in a way that enhances the candidate experience. In order for businesses and recruiters to prepare for what could happen tomorrow, they must be aware of the trends which are to reshape the industry.