The rise of Veganism is evident, as the last few years have seen the launch of various Vegan food products. More people are not just experimenting with Vegan food and incorporating it into their diets, but becoming Vegan completely. According to The Vegan Society, Deliveroo's Vegan orders spiked by 163% in 2020; and Vegans and vegetarians look set to make up a quarter of the British population in 2025.
As well as the health benefits that come with being a vegan, there are clear effects to climate change and sustainability issues. A study published in New Scientist magazine showed that each person can reduce the amount of greenhouse gases that his or her diet contributes to climate change by up to 60 per cent—just by going Vegan.
With the world changing and sustainability/ climate change/ access to resources becoming an increased worry across the world (it only takes a few threats of petrol and toilet paper shortages to send the world into an extreme panic), it is more essential to rely on less and help the world in whatever way we can. 
A great way to help is eating more plant-based meals, and an online subscription helps reduce thinking time when trying to eat more non-meat options, as well as being seriously packed with flavour.
If you're considering taking up a plant-based diet and are seeking some options to get you started, you're in luck! Our Director, Sarah Balch, is a strong advocate for Veganism, and has selected a few of her favourite online Vegan meal prep companies for you to explore!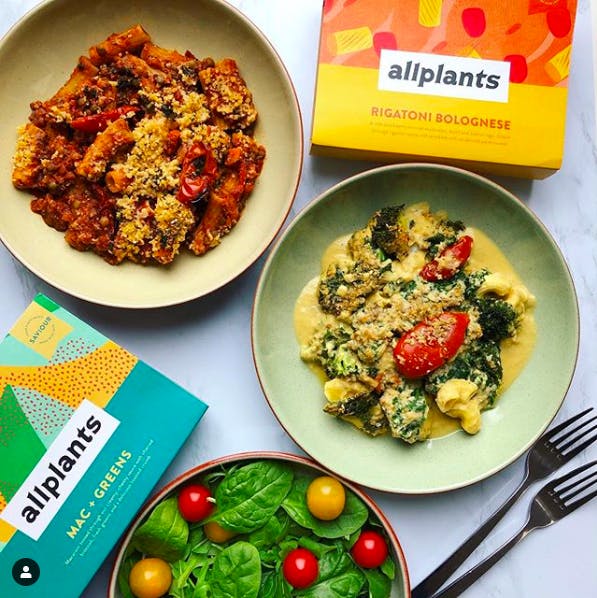 All Plants' message is clear: "We don't judge – we just deliver 100% plant-based meals!" 
All Plants prepare and deliver various tasty plant-based meals for you to enjoy. These range from delicious breakfast meals as you begin your day, to tasty meals to wind down in the evening. Their meals are prepared for freezer storage, so they can heat it up and enjoy whenever they want. They deliver all over the UK. 
Customers simply choose their dishes, by building a box of six meals, choose the most convenient day for delivery, whilst doing all this on a flexible subscription. 
In an effective use of personalisation, All Plants provide their visitors with a quiz to discover their eating habits, so they can prepare a box specifically for them. 

Planty's believe that eating more plant-based meals will have a positive effect on the planet, as well as our long-term health. Their chefs prepare a wide range of meals and deliver them straight to your door. Social and environmental values are "at the heart of their decision making", and work with "carefully selected" suppliers. They deliver all over the UK. 
Sustainability is also an important part of Planty's message. Their packaging is 100% recyclable, compostable, or reusable. Customers can also enjoy loyalty rewards when they invite a friend to try their services. 
Planty's online menu provides visitors (regular and new) with different options for Vegans, Vegetarians, Pescetarians and Flexitarians! They have featured in news outlets such as The Mirror, BBC Good Food and Forbes, for their good work. They were chosen as the Best Vegan Meal Delivery in The UK in 2020.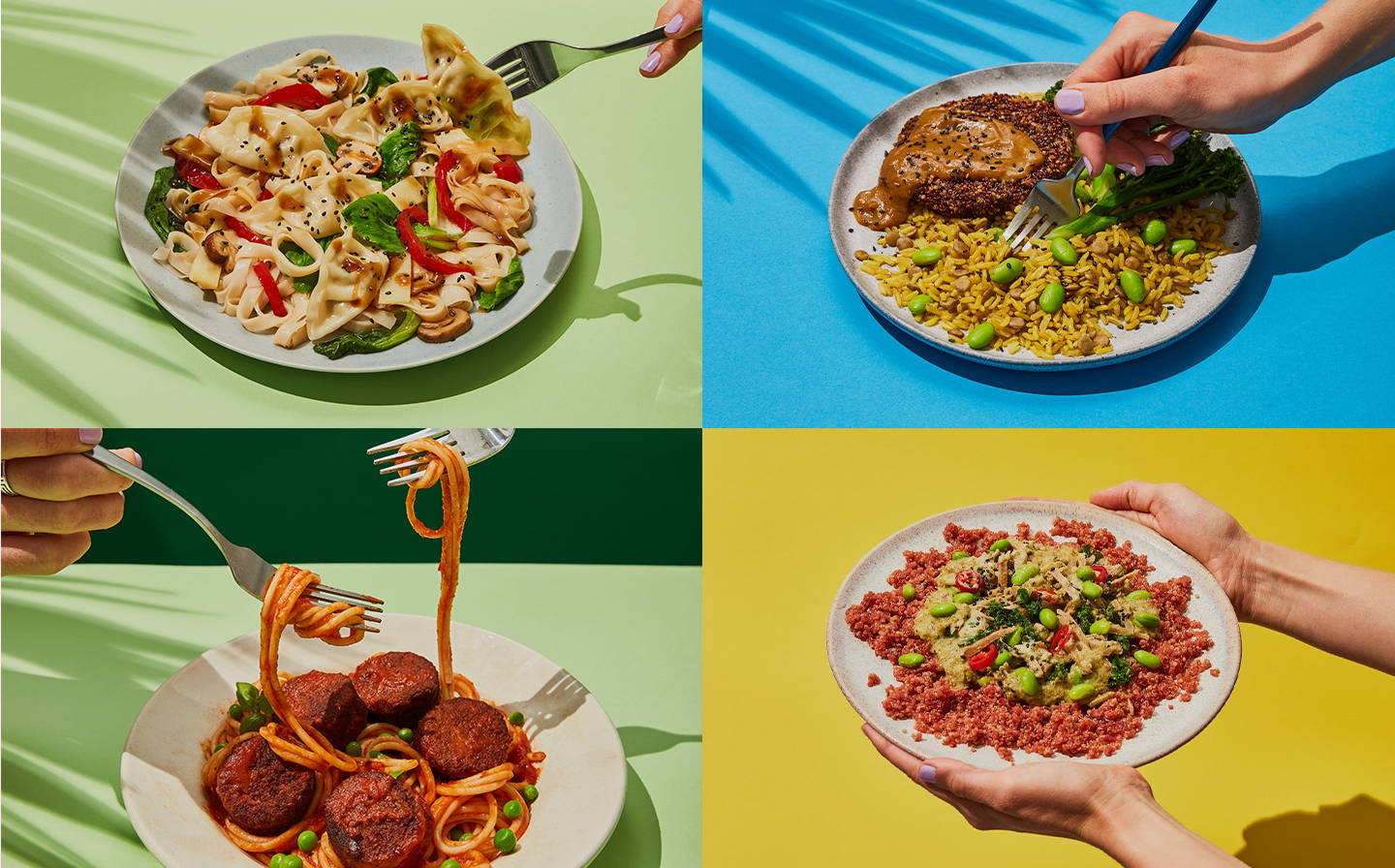 Vibrant Vegan Founder, Iain Burke-Hamilton, says his children and the world they would "grow up in" were motivation for his decision to eat less meat and create Vibrant Vegan. Enjoying meals without the hard work is what they want their customers to do. Customers can subscribe to their newsletter, to receive updates, recipes and exciting offers. First-time customers can enjoy 15% off their order too! 
Vibrant Vegan, partners with War Child to Help Those Less Fortunate; and every time someone buys a meal, the money is donated to War Child to help support a child in need. 
Their blog section covers a range of topics including tips for new Vegans, insight into their team and also mouth-watering recipes. 

Like many of the Vegan meal prep companies, PEP Kitchen is no different. Founded in 2019, Co-Founders Ben and Joe say PEP Kitchen was "born to revolutionise the ready meal". Their marvellous menu of different plant-based dishes cater to meals for one and dishes for two. As well as meals, customers can also select and enjoy from their range of Vegan cookies and drinks. 
They deliver across the UK, straight to your door. They also offer bundles, that customers can stock up their freezers with their most popular Vegan meals. If you're in the South-East area, you can pop into their store and leave them your positive feedback! 

Similar to Vibrant Vegan, Root Kitchen's main mission is to encourage more people to eat more plant-based meals, so we can make a positive difference to the planet for future generations. Customers can enjoy a one-off or subscription based service. Amongst their tasty options, customers can choose from the likes of: Tikka Masala & Rice, Korean Style Tofu Noodles and Butternut Squash Lasagne.
ROOT KITCHEN have a chatbot system, where visitors can speak to a chatbot about any questions they may have. Their blog section features advice on recipes, advice on beginning a Vegan diet and meals to celebrate occasions. 

Fancy cooking? 

As well as delivering ready meals to your door, there are also online stores that provide the recipes to allow you to cook the meals of your choice. 

Feast Box have had positive reviews from names which include: The Telegraph, The Independent, Metro and Forbes. They provide their customers with great food and recipes from all over the world. They donate to Action Against Hunger to provide clean water and medicine to communities suffering from malnutrition across the globe.

Green Chef offers their customers with five diet ingredient options to choose from after subscribing; to decide what is best for your meal needs. These include: Vegan, Vegetarian, Keto, Balanced and Lower Carb. Green Chef's main message emphasises the use of sustainable ingredients.